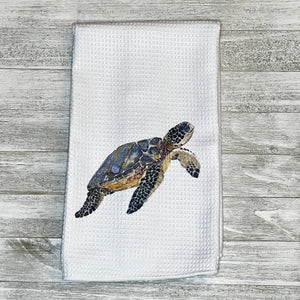 The loggerhead turtle design on this towel is sure to catch the eye of anyone who enters your kitchen. The design is printed with high-quality ink, ensuring that it won't fade or wash out over time. The loggerhead turtle is a symbol of grace and resilience, and this towel is a perfect way to bring a little bit of that spirit into your kitchen.
In addition to its stunning design, this towel is also very practical. Its absorbent material makes it perfect for cleaning up messes, and it's machine washable for easy cleaning.
Machine wash and dry.